Norman Family Chiropractic Reviews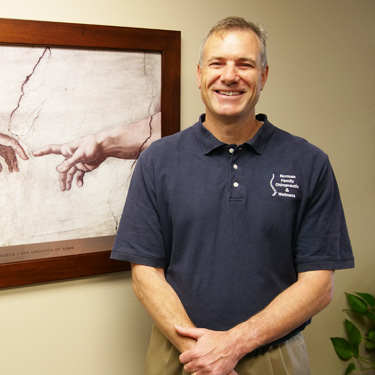 What Our Carrollton Patients Say
At Norman Family Chiropractic we love when patients share with us their feedback and comments after chiropractic care. Please read our patient testimonials below to see what other people have achieved through their tailored treatment plans with us.
Share your stories too! Click here to send us your feedback so that we can help to spread the word about the benefits of natural Norman Family Chiropractic care.
For more information or to schedule an appointment call or email us today.

---
Blood pressure came down and stayed down!
"I initially sought care to help my joints due to my RA and back pain. I would tell someone to definitely consider chiropractic-it will improve your quality of life. When I began treatment I was battling high blood pressure and facing the potential of prescription meds to handle it. With Dr. Norman's help, my BP came down and stayed down even while facing adversity such as a cancer diagnosis. I never knew chiropractic care could help in so many different areas of my health. It's not just for back pain!" – Kim H.
No more anxiety medications and feeling great!
"A year and a half ago I started having panic attacks and anxiety issues, seemingly out of nowhere. After trying a lot of things to help, ultimately I was able to subside these with medications. I began seeing Dr. Norman after about 8 months to see if it may help with my anxiety and also due to issues I've had with headaches and minor back pain. I've never had an ongoing back pain issue, but I'd have a pinched nerve from time to time wrestling with my kids and would have an occasional lower back pain. At 6 months into visits with Dr. Norman now, my back feels stronger and no longer have those occasional pains and my headaches have reduced significantly. As a bonus, I've been able to stop taking my anxiety medication and have been feeling great!" – Bret D.
Amazing relief for headaches and overall stress!
"I hesitated for a long time and finally went to Dr. Norman after experiencing months/years of upper back tension, sinus headaches and overall stress from daily life and a desk job. I immediately felt overall less stress and a better ability to avoid stress. My headaches and neck aches became less frequent. It takes a bit of time but it's amazing the relief I feel and overall good health. I took a break from seeing Dr. Norman for a couple of months that involved a lot of travel and stressful days. I must say this is when I really realized the benefit I was receiving from my chiropractic care. My headaches returned and I didn't feel good. I am now back on track and working on my overall physical and mental health with the help of Dr. Norman." – Margaret U.
Mom can carry son again and gets off pain meds and muscle relaxers!
"I started seeing Dr. Norman almost 2 months ago. I had terrible pain in my shoulder and back. I was in bad shape and could not move a lot and it was hard to lift or carry my 20 month old son. Right now I feel a lot better and I don't have to take pain medication or muscle relaxers. Although I am still feeling tight sometimes, I can function much better than before. Also, I had a stomach ache and vertigo before I started chiropractic and now it is a lot better. I am so thankful that I found Dr. Norman and pray that I will be totally pain free. Dr. Norman is a God-send to me. I would definitely advise anybody that chiropractic is the best natural healing. Thank you Dr. Norman!" – Janine S.
Improved sleep and energy and no more leg numbness!
"I came to Dr. Norman after experiencing numbness in my lower leg while doing a Pilates class. Everyone was telling me I probably had a pinched nerve and that I better get to a doctor. However, I do not like doctors because the first thing they do is put you on medicine, give you injections, etc. My daughter suggested I see Dr. Norman because he had helped her – and without needles and painkillers. It was easy for me to go to him knowing he would provide treatment that would help my body heal itself and not just put a "band-aid" on the symptoms. I have learned so much about this area of medicine and understand how vital it is to have correct spinal alignment in order for total body optimum function. I now sleep great, have more energy, am much more flexible, and love to stretch and go to Pilates class. I look forward to aging with a healthy spine!" – Maryann S.
51-year-old competitive athlete proclaims, "This is truly the best I have ever felt!"
"My lower back issues started when I hit my early 40's. I sought chiropractic care around the age of 43ish. I went through several doctors and private practices. It wasn't until I started seeing Dr. Michael Norman before I really noticed improvement in my comfort level. On a scale of 1 – 10, (10 being the highest discomfort and 1 being the lowest), I would have to say I am at a 1. This is truly the best I have ever felt! My sitting and standing posture has greatly improved. Best of all, my workouts (running and cycling), have been much better, more enjoyable and satisfying. The relationship is a two-way street. Dr. Norman does his part and I have to do mine. Stretching and exercising is a way of life for me now. Oh, and chiropractic care of course!" – Keith U.
2-year-old recovers from chronic diarrhea with chiropractic
"My daughter, age 2, had chronic diarrhea and was diagnosed with "toddlers diarrhea" by her pediatrician. Her chiropractic check-up found her hips and shoulders were twisted and un-balanced. She now has normal bowel movements and her body frame is much more balanced and symmetric. I would recommend chiropractic care because it virtually has improved our whole family. Along with my daughter's improvement, my back and neck pain are gone and my arthritis is practically gone." – Lydianne M.
Quality of life with my family again
"I was moving some light weight around when I felt a small "twinge" in my back. The next morning this "twinge" evolved into an unbearable stabbing pain in my lower back with pain and numbness radiating down my left leg into my toes. A couple of months into my treatment, I was walking straight and with a relatively low level of pain. Interestingly, those very same people at work who were suggesting orthopedic surgeons were now asking about my chiropractor. They wanted to see Dr. Norman themselves. I have Dr. Norman to thank for treating me, keeping me motivated, keeping me away from unnecessary prescriptions and the scalpel, and mostly for restoring my life with my family. My 6-year-old may not appreciate me "schooling" him in soccer and football, but he is certainly thankful that he can play with his dad now, and for years to come." – Paul N.
Chiropractic helps 8-year-old overcome year round allergies
"My son had year round allergies. His pediatrician prescribed lots of medications and nasal spray and none of them helped except temporary relief. My aunt went to Dr. Norman and recommended us to seek chiropractic care. My husband and I were skeptical at first because we did not think chiropractic could help but we decided to give it a try. Now after 9 months, our son is breathing better, he is less ill and it seems as if his allergies have completely subsided. From constantly having shortness of breath, he is sleeping better and feeling much better. Being a mom, it was heartbreaking seeing him with an allergy problem since he was little and it is now such a relief." – Christina V.
"I've noticed a huge change in my overall well-being"
"Through the years of my 20's and 30's, I would get adjusted randomly for back pain. After seeing Dr. Norman, I started to learn how beneficial chiropractic was for the rest of my body and organs. I originally came to Dr. Norman to get back to basic, but I've had other amazing results and noticed a huge change in my overall well-being. I'm less stressed emotionally, I'm able to sleep better at night and my immune system has dramatically improved. I recommend chiropractic care to all my friends and family for better health overall!" – Rebecca A.
"My quality of life has improved dramatically"
"My chronic low back pain and inability to perform simple tasks drove me to seek Dr. Norman's help. I knew I was heading for back surgery if I didn't make some changes. Dr. Norman taught me many things, especially the importance of adjustments. In Combination with strengthening exercises and proper nutrition, my quality of life has improved dramatically. I'm a big believer in chiropractic care and I tell anyone who will listen. Finally, I have become more in tune with my body and understand it so much better. Thanks Dr. Norman!" – Mary O.
Chiropractic helps senior with lung and asthma condition
"I made an appointment for back pain, a pinched nerve and numbness in one foot. I've also had asthma for years. I've not been able to find a maintenance drug that works for the last year or two and I have used an inhaler at least once a day in addition to cough medicines. A few days after starting my chiropractic adjustments, I realized that I hadn't used my inhaler recently. Today, 31 days into my chiropractic treatment, as my pain and numbness slowly start to dissipate, I realize I have not needed my inhaler but once and the cough medicines not at all." – Brenda H.
"Feeling strong again and hope for a healthy future"
"I ignored my health and body for years making excuses that I could handle it all. I kept pushing through everything. I had been experiencing fatigue, stress, poor sleep and weight gain. My shoulders and neck were inflexible and I just accepted it as a result of stress. I didn't care if I ate well and relied on sugar fixes to get me through the day. Then earlier this year I saw my shoulders quite slanted in the mirror and I was frightened of what was happening to me. I found Dr. Norman and seeing my first set of x-rays was unsettling to see, but I was now ready to start treatment. Now-I sleep better, tension from stress doesn't build up making my shoulders and neck so stiff. I have better energy and take time to exercise now. I find myself feeling strong again. I needed the healthcare chiropractic provides. Outwardly, my shoulders are level again and inwardly, I have hope of a healthy future. I am thankful for the care and health education Dr. Norman has provided." – Tracy I.
75-year-old regains her passion of gardening
"When I first spoke to Dr. Norman, my back was in constant and varying levels of pain. I had not been able to sleep on my left side for the previous 10 years and I had a stiff neck due to an auto accident 20 years earlier. I am an intense gardener and I'm also 75 years old. Chiropractic has allowed me to continue enjoying my passion; my hip pain has been relieved as well as my back pain. Dr. Norman has shown me exercises that help strengthen supporting muscles and keep me moving. Chiropractic was a great decision on my part." – Julie K.
---
Norman Family Chiropractic Reviews | (972) 394-3350